Jacques Villon
Damville 1875 - Puteaux 1963


Jacques Villon (actually Gaston Emile Duchamp) was born on July 31, 1875, in Damville. He is the half brother of Marcel Duchamp and Raymond Duchamp Villon. His pseudonym was taken in honor of the French poet François Villon.
From 1894 until 1906, he worked as a caricaturist and illustrator for several magazines in Paris. During this time, Jacques Villon produced many posters and humoristic cartoons. He turned towards painting after 1906 and was influenced by Edgar Degas and Henri Toulouse-Lautrec.
From probably around 1911, Jacques Villon was a member of the group of French artists known as "Section d'Or," along with his brother Marcel Duchamp, Albert Gleizes, Francis Picabia, and Juan Gris. After this time, he retreated to Puteaux, a village near Paris, to work in peace. He produced around 700 paintings. In the late 1940's, he was finally discovered by a gallery owner.
Jacques Villon became known mainly for his graphic design work. For a long time, he was considered a representative of Cubism, but today he is also recognized for his interesting connections with other art styles, such as Impressionism and Futurism.
Villon died on June 9, 1963, in Puteaux.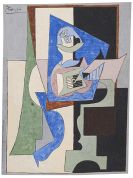 Pablo Picasso
Guéridon, guitare et compotier
277,500 $
Details